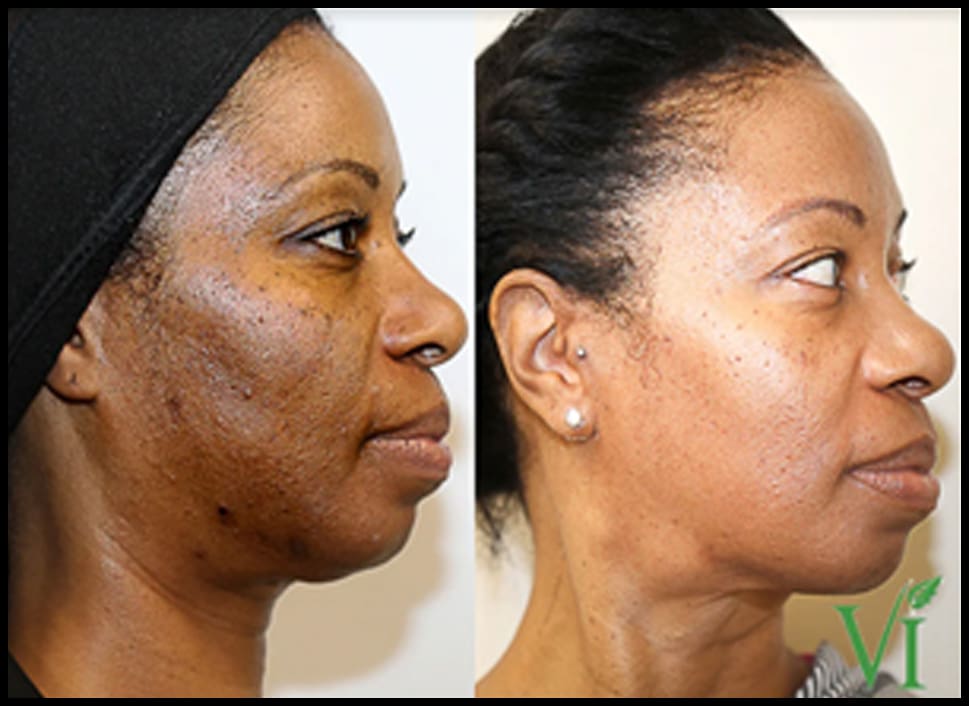 VI Peels Dramatically Improve Your Skin's Appearance! Treat Yourself to a VI Peel!
VI Peel® is suitable for all skin types
The treatment is comfortable with numbing quickly occurring after the first pass of
the peel
Fast rewarding results in as little as 7 days and with minimal peeling time lasting 2-3 days
A post treatment kit is provided for each patient with instructions, SPF 50+, cleanser and a
post peel protectant.
Which VI Peel® is right for you?
VI Peel® – Your Peel for Anti-Aging Skin
The aging process can cause your skin to become lax, uneven and rough. Aging is inevitable, but the VI Peel can make a difference in as little as 7 days. Specifically formulated to rejuvenate aging skin and help prevent future damage. This peel will soften fine lines and wrinkles, restore even skin tone, smooth rough skin texture and improve tone of the skin.
VI Peel® Purify – Peel for Acne Prone Skin
This peel removes excess oils in the skin while soothing inflammation and redness. The VI Peel Purify increases cellular turnover to open pores eliminating active acne in the skin.
VI Peel® Precision Plus – Peel for Pigmentation and Sun Damage
Hyperpigmentation is a skin condition in which areas of the skin become darker. The Precision Plus is a powerful dual-booster that helps reduce pigmentation and the appearance of age spots. This peel brightens discoloration caused by sun damage and/or melasma and smooths rough texture of the skin.
VI Peel® Purify w/ Precision Plus – Peel for Acne Prone Skin with Scarring and Pigmentation
Acne can leave unwanted scars and pigmentation. This peel helps combat acne while simultaneously eliminating acne scars.