What is GAINSWave?
GAINSWave® is a revolutionary drug-free, surgery-free, and non-invasive therapy that uses pulsed acoustical waves, providing a breakthrough solution for men seeking better erections and optimal sexual performance.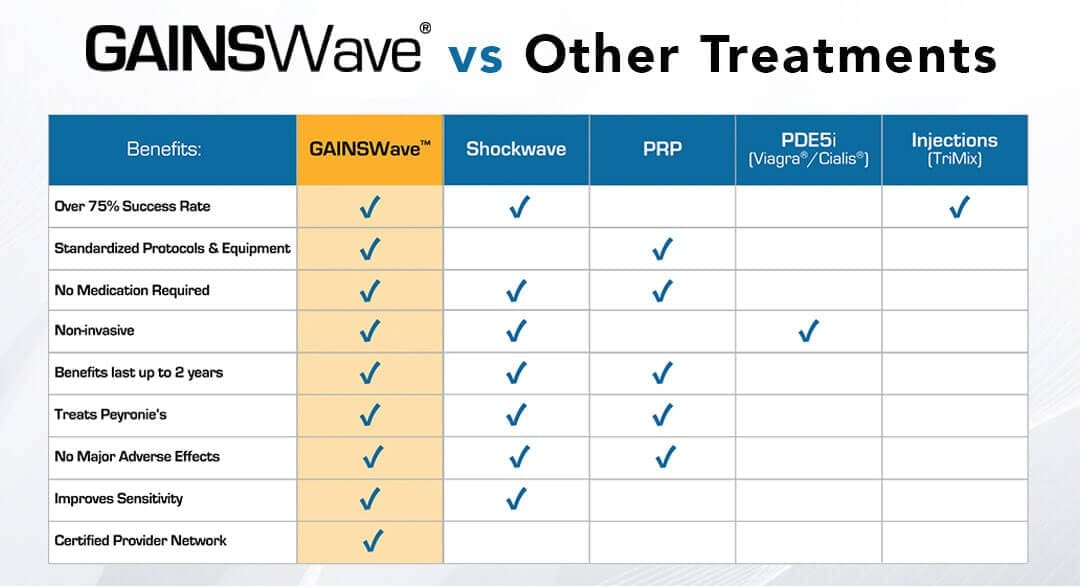 Having Problems in the Bedroom?
As a man, there is nothing you fear more than not being able to perform while you are in bed with your partner. Not only can this be very frustrating and embarrassing, but it may worsen as you age.
Whether you are unable to achieve an erection or function is simply not what it once was, a decrease in sexual function can be a detriment to not only your confidence but also your relationships. GAINSWave® can help any man seeking to improve their overall sexual function and performance.
How Does it Work?
Steady blood flow is the key to erectile function. As men age, the blood vessels in the penis deteriorate and fill with micro-plaque reducing blood flow to the penis. For over 15 years, therapy similar to GAINSWave® known as Shockwave therapy has been successfully used in Europe to help men with ED. However, it's new to the U.S. and Canada.
GAINSWave® therapy uses pulsed acoustic waves to open existing blood vessels and stimulate the formation of new ones. The resulting improved blood flow helps any man, not only those with ED, to obtain stronger and more sustainable erections.
The GAINSWave® Procedure
GAINSWave® therapy is a series of simple in-office procedures that is completely non-invasive, drug-free, and surgery free. Your local Certified GAINSWave® provider in Lutherville-Timonium, MD will review your symptoms and recommend the right protocol for you. Typically treatments last between 15 to 20 minutes. There are little to no side effects and no downtime. Men usually experience the full benefits after a series of 6 to 12 procedures, but many experience improvements immediately following their first few procedures. According to research benefits can last up to 2 years (NCBI).
GAINSWave
GAINSWave is a scientifically proven, non-invasive procedure that uses low frequency sound waves to increase blood flow to the penis and optimize erections, sensitivity, and sexual performance. This therapy has shown effectiveness in reversing some causes of erectile dysfunction by increasing circulation and promoting healthy tissue.
Why choose GAINSWave?

Enhances Erections
Improves Sexual Performance
Increases Sensation
Treats Erectile Dysfunction
Drug & Surgery Free
Totally Non-Invasive
Long Lasting Results
Simple In-office Procedure
Treat Peyronie's Disease
GAINSWave in the News
Dave Asprey Prevents ED with GAINSWave®
He first grabbed America's attention by telling us to add butter to our coffee. Now, self-proclaimed biohacker and New York Times best-selling author of The Bulletproof Diet, Dave Asprey, is making waves again. This time he's experimenting with GAINSWave for sexual health optimization and ED preventative treatment. Watch his procedure with Dr. Kate Kass here!
See what real patients have to say…
Jeff B.
"My confidence has been dramatically changed since I started the program."
Karl S.
"Now I have a sex life that goes beyond what I had in my 20's."
Allen G.
"I have a firmer, thicker penis and a much quicker erection."
Prescription Medications
(Oral, Sublingual Injectable)
Having medications specifically compounded to your needs can make all the difference in the quality of the response you have.
Compounding oral combinations can give them a short and long acting effect. Many of our patients state their side effects are diminished to non-existent when taking these specially compounded blends made without dyes. Additionally, being able to compound combinations of these ingredients gives them a short and long acting effect, making them perfect to take for a weekend away! Some of our popular ingredients are Sildenafil (the active ingredient in Viagra), Vardenafil (the active ingredient in Levitra), Tadalafil (the active ingredient in Cialis), Testosterone and oxytocin.
Trimix is a very effective injectable medication for patients whom have not had satisfactory results from oral medications. Especially after prostate cancer or patients with diabetes or have severely diminished blood flow to the penis (for patients with severe ED due to these causes GAINSWave has proven to reverse and or decrease the severity in over 80% of patients). Patients state on average it takes effect in approximately 5 minutes and over time being able to increase blood flow to the penis patients notice that overall performance is enhanced.
Priapus Shot
The Priapus Shot uses blood-derived (PRP) growth factors to rejuvenate penile tissue. Patients have stated the Priapus Shot has helped with making their erections harder, more consistently achievable and with increased blood circulation their sensation has been better.
Stronger Erections
Straighten the shaft (this treatment has been shown to improve Peyronie's)
Increase circulation and tissue healthy
For patients with severe ED it can make oral/adjunct medications more effective
Increase sensation and pleasure
How can I benefit from GAINSWave?
Any man seeking to enhance their sexual performance, improve stamina, treat Peyronie's disease, reverse erectile dysfunction, or reignite intimacy in their relationship is the perfect candidate for GAINSWave therapy! You do not have to be struggling with these medical conditions to experience the benefits, including strengthening and maintaining erections, increasing sensation, and improving orgasm, of GAINSWave. Men of all ages have experienced life-changing results after the GAINSWave procedure!